Photo by SGranitz/WireImage, Evan Agostini/ImageDirect and Jim Smeal/Ron Galella Collection via Getty Images
Oh, Mandy. Debuting with the single "Candy" at the age of 15, Mandy Moore was the youngest — and sweetest — star of 1999's teen popstar cohort. She's also one of the few 2000s pop acts to transition successfully and, seemingly, effortlessly to the realm of the big (and small) screen. In 2002, the singer shed her bubblegum pop image for her role in the iconic and formative romance A Walk To Remember. Since, she went on to star in satirical indie Saved!, underrated coming-of-age flick How to Deal and, most prominently, in long-running TV drama This Is Us. At the turn-of-the-millennium, Mandy's style vacillated between pop effervescence (fuschia pink and sequins) and soft minimalism (fitted suits and slip dresses) while even dabbling in proto-boho chic — all while maintaining her singular bubbly aura. Here, we take a look back at some of Mandy's most iconic outfits from the Y2K era.
"Candy" music video, 1999
In 1999,  Mandy burst onto the music charts with the Top 50 single "Candy." Throughout the majority of the song's music video — which received massive airplay on MTV's TRL — the singer sports a red tank, cargo pants and sneaks. The clip's most memorable fit, however, appears only for a few split seconds, at its beginning, as the singer rotates through possible 'going out' looks in her bedroom. The presumably rejected yet perfectly Y2K outfit consists of a layered tank situation, satin maxi skirt, walkman-as-techcessory and the era's ubiquitous spiky bun.
Photo by Jeff Kravitz/FilmMagic
At the Billboard Music Awards, 1999
Along with Britney, Christina and Jessica, Mandy ushered in Y2K's teen pop revival. Debuting at only 15 years old — the youngest of the four — Mandy's musical and sartorial stylings were the sweetest and most youthful of her pop cohort. Here, at the 1999 Billboard Music Awards, not even a month after the release of "Candy", Mandy wears an ultra saccharine look: fuzzy fuschia tank, lime green organza skirt and matching pink pedi.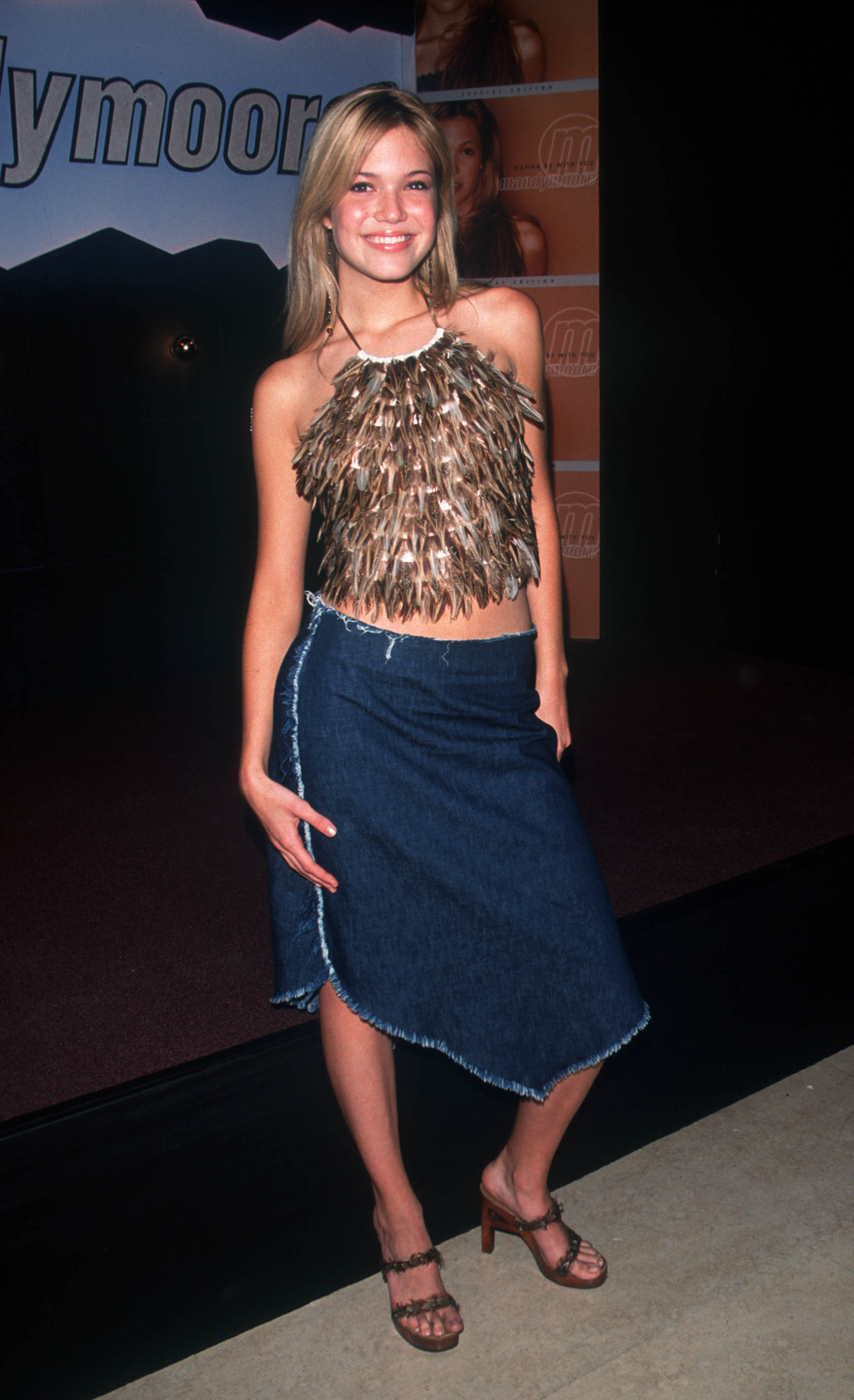 Photo by Evan Agostini/ImageDirect
At an album launch party at HMV, 2000
Does it get any more Y2K than holding an album launch party at HMV? The only thing more turn-of-the-millennium than the venue was Mandy's outfit: a beaded halter top and a low-rise denim skirt with a handkerchief hem.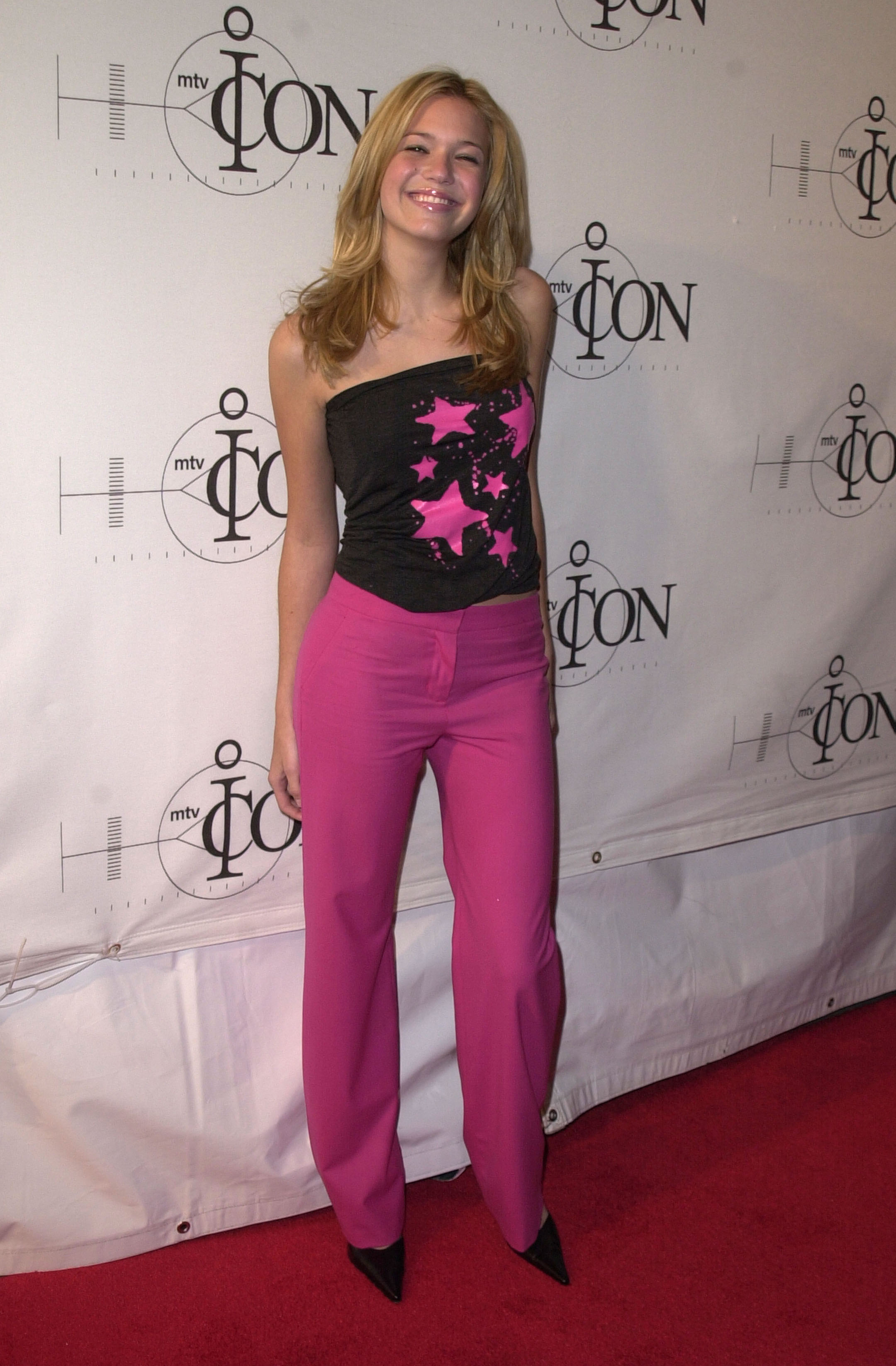 Photo by SGranitz/WireImage
At MTV Icon: Janet Jackson television special, 2001
Even more Y2K than HMV: the MTV television special. MTV Icon, to be exact, which aired from 2001 to 2004. To the first-ever edition of the annual event, Mandy wore turn-of-the-millennium pop's favoured color combo: fuschia and black.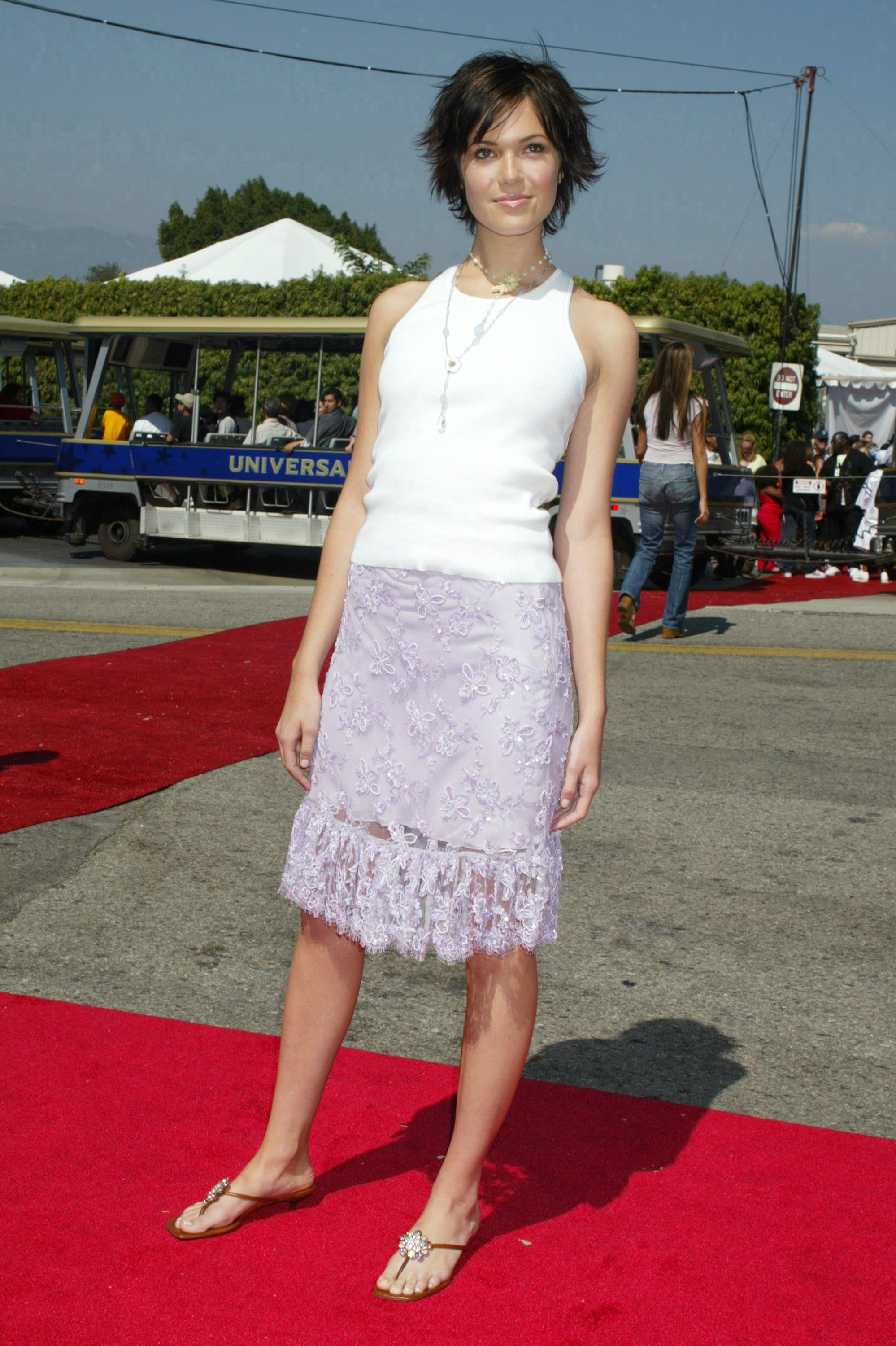 Photo by Jim Smeal/Ron Galella Collection via Getty Images
At the Teen Choice Awards, 2002
In 2002, Mandy shed her bubblegum pop star image in pursuit of more folk-leaning music and a career in acting. One year after dabbling in cinema with smaller roles in Dr. Dolittle 2 and The Princess Diaries, Mandy took a starring role in romantic tear-jerker A Walk to Remember.  Among other things, the newly-minted actress marked this career transition by dying her hair from platinum blonde to dark brown — and then lobbing it into the era's ubiquitous pixie. Here, to scoop two A Walk To Remember awards at the Teen Choice Awards, Mandy sports her freshly cut 'do with a more sophisticated, boho-leaning look: the 00s tank-and-slip skirt combo.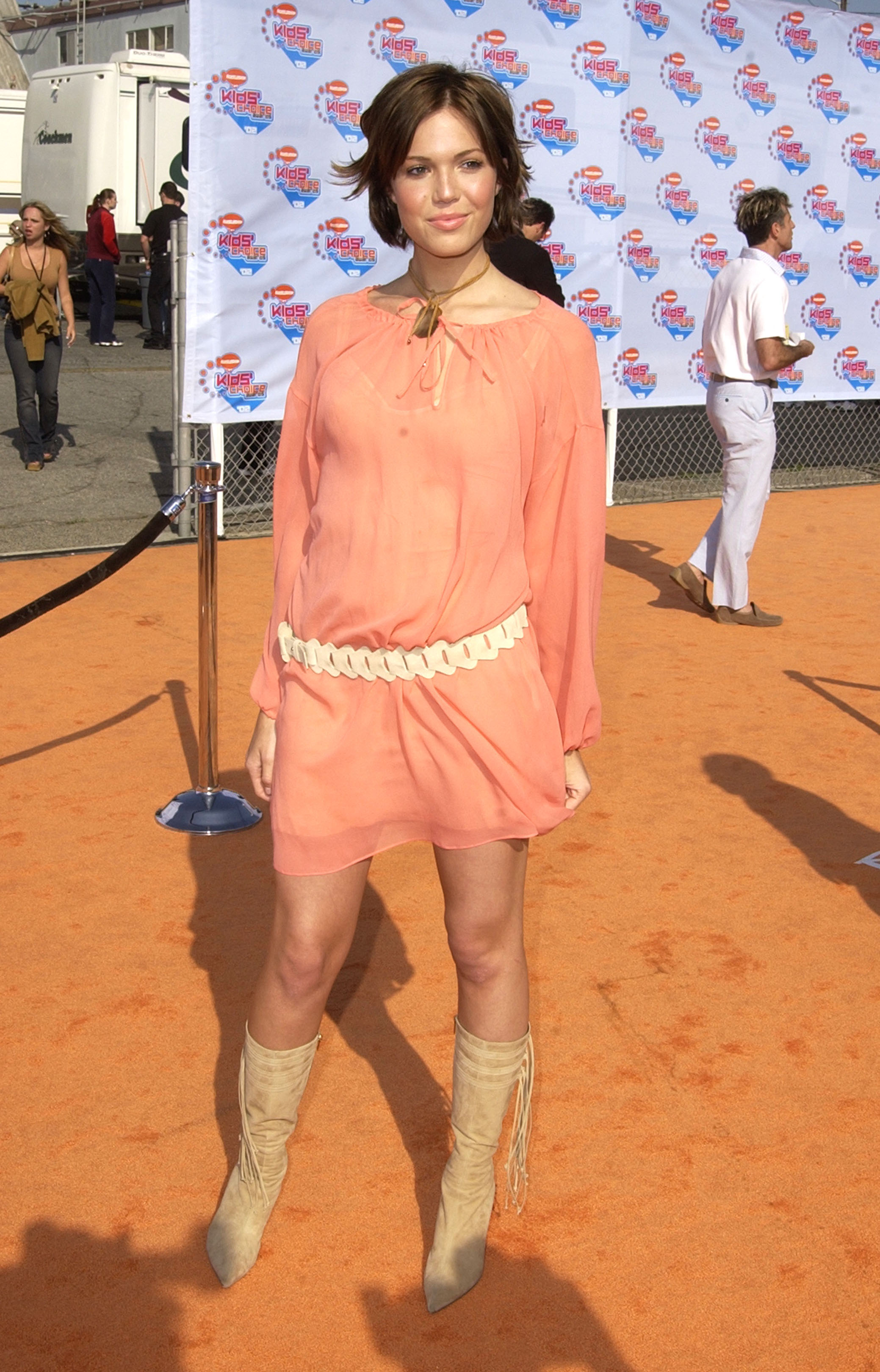 At Nickelodeon's 15th Annual Kids Choice Awards, 2002
At the 2002 Nickelodeon Kids Choice Awards, Mandy went full Glastonbury-esque, boho-chic — over a year before Kate or Sienna even coined the term. Matching the event's iconic orange carpet, the musician-slash-actress wore a floaty mini dress with a low-slung leather belt — and fringed suede boots, for good measure.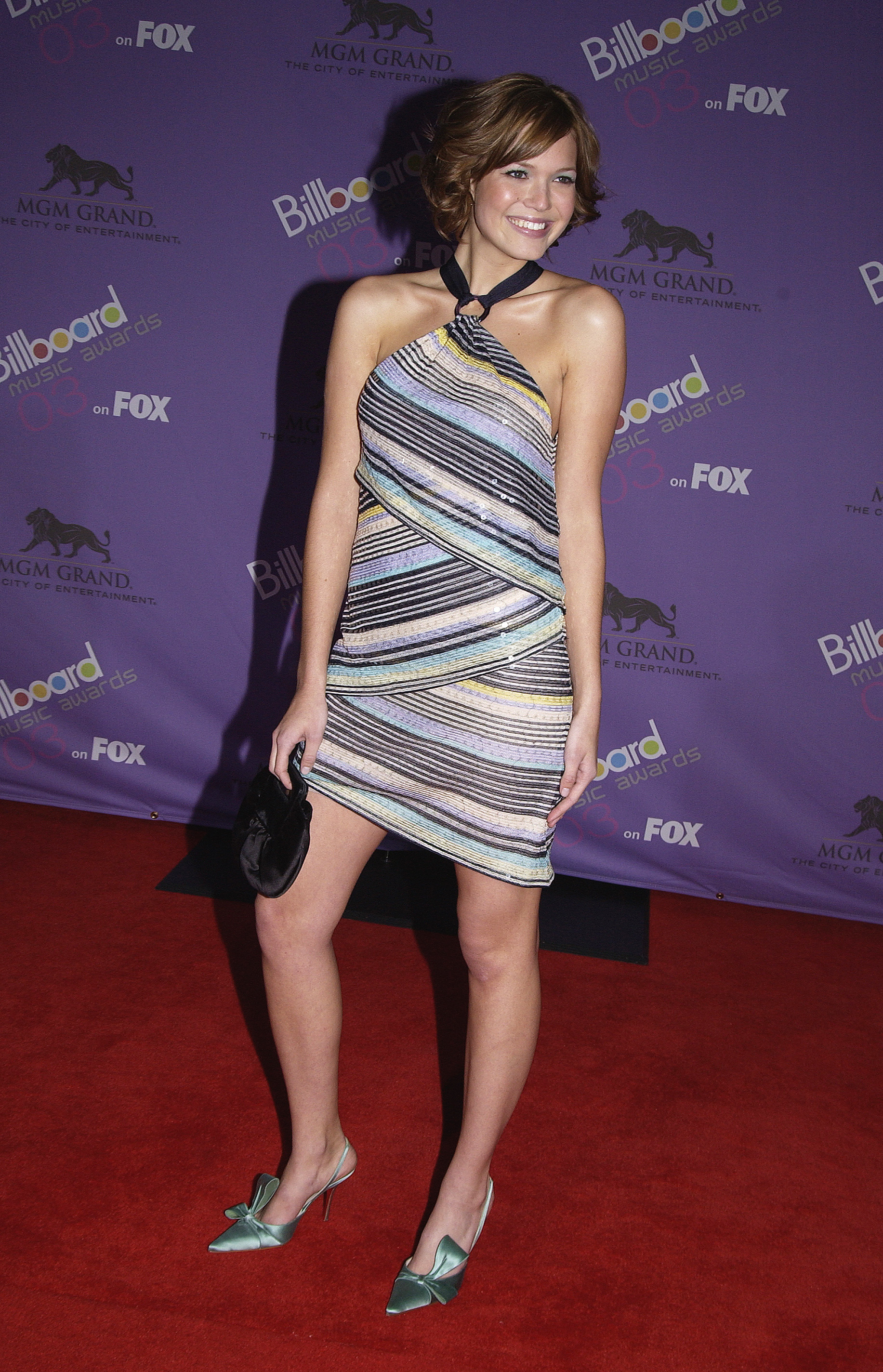 Photo by Frank Trapper/Corbis via Getty Images
At the Billboard Music Awards, 2003
In 2003, Mandy released her fourth studio album, Coverage. While the album, with its folksy leanings, marked a departure from Mandy's teen pop sound, the singer definitely did not part with her bubblegum-inspired wardrobe. To the year's Billboard Music Awards — two months after the launch of Coverage— the singer wore a sequinned halter dress that called back to her "Candy" era. A sweet look for Y2K pop's eternal sweetheart.
Follow i-D on Instagram and TikTok for more fashion.
Many Thanks To The Following Website For This Valuable Content.
Content Source Here