He was hailed by The power and the glory, The reverse of the plot, Our man in Havana, recently rediscovered for new readers by The end of romance consecrated in the cinema by The Third Man … The honorary consul his best novel, but it was not his favorite. Of all, Graham Greene (United Kingdom, 1904- Switzerland, 1991) had special affection for Monsignor Quixote. That eternal journey in 15 stages —with successive visits between 1976 and 1989— was made by the writer conscientiously to enter the Spain that watched over Francoism on the one hand and awakened democracy for the most part.
He traveled it from the beginning in a Renault 5 and not in a Seat 850, like his character, together with a priest who became a friend for life, Leopoldo Durán. They carried simple luggage and several boxes of wine in the trunk or distributed in the front and rear of the car. One was a left-wing, womanizer, cosmopolitan writer. But it was not difficult for him to get along with the opposite pole represented by Durán, a conservative priest and somewhat naive theologian, an expert in English literature.
Both worked the symbiosis of Don Quixote and Sancho that has served Carlos Villar Flor, writer and professor of literature at the University of La Rioja, to publish Travels with my cure: Graham Greene's adventures in Spain and Portugal (Lavela Granada): a journey that still hides some secrets and helps to understand the always attractive biography of English through a work that has cost seven years of research. Greene was attracted to Spain by its historical substance, but as much or more by the wine appellations of origin. "We cannot disturb the wine," says the bishop of Motopo at the beginning of his Iberian novel. The author placed his feet on top of the boxes that sometimes took up space next to the front seat of an already narrow car for those who were half a meter ninety. Duran nicknamed him whisky priest for his favorite afternoon drink, but Greene suffered more from not venting a bottle of wine before 11 a.m. than from back pain caused by poor posture from alcohol storage.
Apart from drinking, eating well and stumbling around, did the writer travel to fulfill any secret mission for MI6? It would not have been the first time in Spain
Apart from drinking, eating well and stumbling around, did the writer travel to fulfill any secret mission for MI6? It would not have been the first time in Spain, apart from those he did for Africa and Latin America. He already carried out some during World War II in the Iberian Peninsula when he became friends with Kim Philby, the legend of counterintelligence. His obsession to go unnoticed pissed off Father Durán, who described the trip in his diaries. But at times, he played a role that ranged between diplomacy and information gathering. "My hypothesis", says the author of Travel with my cure, "It is that from November 1975 on he was very interested in observing post-Franco Spain and was invited to visit our country in 1976 by Durán, who was not yet his friend".
In principle, Graham Greene wanted to know the Basque Country. "British intelligence linked him to hostilities in Northern Ireland," says Villar Flor. But there is more: "He was interested in gathering information on the possible entry of Spain into the European (Economic) Community. Regarding his facility to connect with leaders of the left, in 1980 he tried to establish links with the emerging Spanish socialism, and began with Tierno Galván, mayor of Madrid, with whom he managed to become friends ".
Apart from Tierno, Greene considered Santiago Carrillo the most astute communist in Europe. But his curiosity was not only focused on politicians. Also in the classics of literature. Mystics attracted him, more Saint John of the Cross than Saint Teresa. And who has been considered a master of ambiguity, the author who presented himself as an apostle of doubt, felt radically identified with Miguel de Unamuno. He visited his grave in Salamanca. "La 360," the cemetery guard told him. There he experienced a kind of epiphany that probably led him to write later Monsignor Quixote: "He was one of the Spanish authors most appreciated by Greene, if not the most. Indeed, he shared with him his tormented struggle for belief, or, to paraphrase the Basque author, 'the agony of his Christianity', says Villar Flor.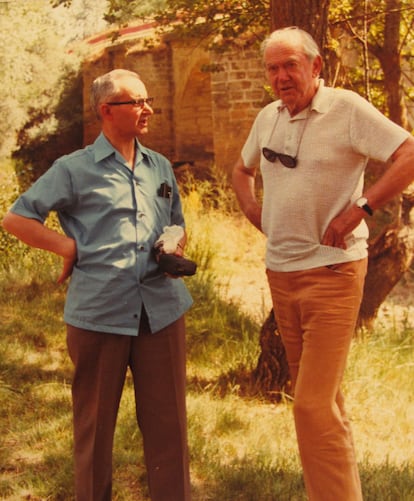 Greene converted to Catholicism in 1926 and died professing that faith, but he hated having the adjective of his belief applied disparagingly to his work. "In the autobiography Escape routes (1980), stated that in his youth (around 1929) he had read Life of Don Quixote and Sancho and he sensed that the book had been anchored in his subconscious, provoking his passion to read treatises on Catholic theology ", says the scholar. That conditioned the tone of many of his novels from the 1940s and 1950s. (Brighton Rock, The power and the glory, The reverse of the plot …). But he also attributed his discovery of other factors to this book. "That tragicomic region of La Mancha where I intended to stay," Greene wrote.
Humor and tragedy
Everything fits, humor and tragedy, for his final conception of Monsignor Quixote. A triangle with the English author at one vertex and Unamuno and Cervantes at the others. "In this novel the existentialist trace of Fog and perhaps the game with the planes of Cervantes fiction and reality, since the protagonist is aware of descending from a fictional ancestor ", according to Villar Flor. The writer felt imbued with the addictive devices of fiction. He maintained his discipline in Spain. He read between seven and 10 novels a month, says Durán, and wrote his 300 words every morning from eight o'clock. Then they would go out to run into whatever the road brought them. It was not just one trip that Greene made to Spain, but 15 consecutive and exhausting summers in which they divided expenses: Durán paid for gas, food and overnight stays in convents and monasteries while Greene took care of dinners and hotels.
In the first, during July 1976, both traveled through Salamanca, Galicia, the Cantabrian coast to San Sebastián, Burgos, Segovia … A year later they returned to Salamanca —he will always visit the city, a true fixation for him— and headed to Ávila, León and Portugal with stops in Porto, Lisbon, Sintra. On that occasion Greene thoroughly visits the Prado and claims to convert to Goya. Then will come Extremadura, Andalusia, Levante, the Pyrenees, Catalonia and, of course, all of La Mancha.
It is there where he is thoroughly soaked in the Cervantes hallucination and transfers the spirit of the work to its time to make dialogue the Erasmian background that Alonso Quijano radiates with Sancho with the time of totalitarianism. On the back of that Seat 850, his rocinante, Greene saddles that tough and drunken priest that is Monsignor Quixote, suspicious of the pomp of hierarchies, which has a lot to do with Durán but also too much with himself.